Renowned metal band Narcotic Wasteland, led by the talented Dallas Toler-Wade, is set to unleash their latest musical offering, a gripping single entitled "Sex, Lies & DNA". The track showcases the band's signature intense sound, with haunting lyrics that delve into the intriguing world of true crime. Set for release on Friday, July 28, 2023, the song is expected to captivate audiences with its thought-provoking themes and powerful instrumentation.
​
With Dallas Toler-Wade on guitar and vocals, Brett Lee on lead guitar, Erik Schultek on drums, Kenji Tsunami on bass, and Joseph Howard and special guest Andrea_N_Black on vocals, "Sex, Lies & DNA" features an impressive lineup of talented musicians whose synergy produces an electrifying sonic experience.
​
The single's production was meticulously handled by Erik Schultek and Dallas Toler-Wade themselves at Level 3 Studios, resulting in a top-tier musical composition that expertly captures the essence of the band's unique style. In a statement about the song, Dallas Toler-Wade shared his inspiration, stating:
​
​"This song lyrically shows my ever-growing fascination with true crime. As I was working on this song, I asked myself a question. I asked myself what's worse? A serial killer that has to ritual kill for power and control over the victim, or the husband or wife that kills their partner for a life insurance payout? It's all equally bad, of course. The difference for me is I am fascinated with serial killers, but these other petty selfish murders like for money disgust me. While there are different reasons people kill, it all seems to stem from being a sociopath. The level of detachment and selfishness is astounding. And many of these murders, whether it be from a serial killer or more on the domestic side of things, drugs, and alcohol often play a role. Musically, "Sex Lies & DNA" showcases the band's signature frantic tri-tonal riffing combined with an old-school speed metal/punk vibe, particularly evident in the powerful chorus chant."
Dallas Toler-Wade's songwriting prowess is evident as the track presents a challenging yet enthralling vocal and instrumental arrangement, featuring an exceptional guitar solo contributed by Brett Lee, followed by an impressive solo by Toler-Wade himself. The dedication to perfection even extends to the chorus, with multiple tracks recorded for the chant, including a contribution from their booking agent Andrea_N_Black.
​
To celebrate the release of "Sex, Lies & DNA", Narcotic Wasteland is embarking on a thrilling tour, treating fans across North America to their electrifying live performances. The tour will feature special guests Gorgatron and Tegmentum, promising a night of pure metal mayhem and unadulterated energy. Catch Narcotic Wasteland on the following tour dates listed below.
​
For fans of true crime, metal enthusiasts, and anyone seeking a powerful musical journey, Narcotic Wasteland's "Sex Lies & DNA" is not to be missed. Be sure to grab your copy of the single upon release and secure your tickets for an unforgettable live experience.
Narcotic Wasteland is recommended for fans of Vader, Death, The Crown, Autopsy, Pestilence, and Nile.
Listen to "Sex, Lies & DNA" at the following links:
YouTube – https://youtu.be/JWTmlu5l_bc​
Spotify – https://spoti.fi/3OI1rTz​
Digital Download – https://narcoticwasteland.com/single/78166/narcotic-wasteland-sex-lies-dna​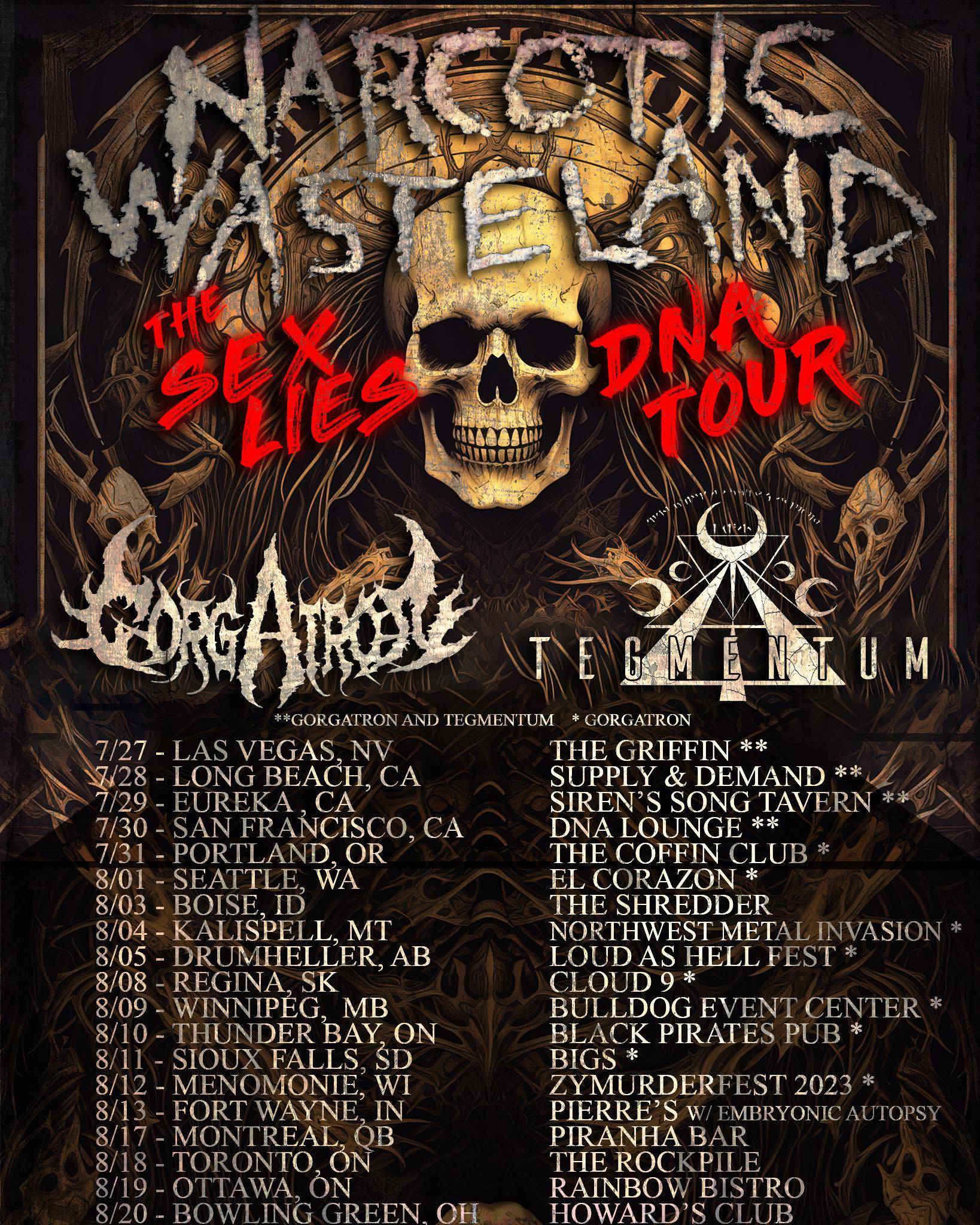 ​
Poster Design Credit for Sex, Lies & DNA – Kenji Tsunami
Tickets available at https://www.narcoticwasteland.com/tour​
Sex, Lies & DNA Tour​
** w/ Gorgatron and Tegmentum
# w/ Gorgatron
July 27 – Las Vegas, NV – Griffin **
July 28 – Long Beach, CA – Supply & Demand **
July 29 – Eureka, CA – The Siren's Song Tavern **
July 30 – San Francisco, CA – DNA Lounge **
July 31 – Portland, OR – The Coffin Club #
Aug 1 – Seattle, WA – El Corazon #
Aug 3 – Boise, ID – The Shredder
Aug 4 – Kalispell, MT – Kalispell Eagles 234 – NW Metal Invasion Fest #
Aug 5 – Drumheller, AB – Loud As Hell Fest #
Aug 7 – Regina, SK – Cloud 9 #
Aug 9 – Winnipeg, MB – Bulldog Event Center #
Aug 10 – Thunder Bay, ON – Black Pirates Pub #
Aug 11 – Sioux Falls, SD – Bigs Bar #
Aug 12 – Menomonie, WI – Zymurgy Brewing #
Aug 13 – Fort Wayne, IN – Piere's
Aug 17 – Montreal, QC – Piranha Bar
Aug 18 – Toronto, ON – The Rockpile
Aug 19 – Ottawa, ON – Rainbow Bistro
Aug 20 – Bowling Green, OH – Howard's Club H
For more info: ​Narcoticwasteland.com | ​Facebook.com/narcoticwasteland | ​Instagram.com/narcoticwastelandofficial | Twitter.com/Narco_Wasteland | Tiktok.com/@narcoticwasteland​
About: Narcotic Wasteland is a prominent metal band led by former Nile guitarist and vocalist Dallas Toler-Wade. Known for their intense sound and thought-provoking lyrics, the band continues to push the boundaries of the metal genre, captivating audiences worldwide. With their latest single "Sex Lies & DNA," Narcotic Wasteland reaffirms their status as trailblazers in the world of metal music.
About Author