ITUS was born in 2018 when guitarist Brandon Lucking and vocalist Reinier Vandenbosch began writing doom metal together. Now with bassist Brandon Aitchison and drummer Vince Anastasi, they blend grueling sludge and epic doom with stoner rock and death metal into a compelling mix. Their latest release is the single "Droner" – a heavy metal throwback, with lots of hooks that is widely accessible to rock fans. Vandenbosch conjures sexy clean rock verses that build into fat, sludgy passages. The guys are confident that all kinds of rock and metal fans will dig it.
"Droner" immediately comes out swinging with hard rock verses and a sludgy chorus, filled with vocalist Reinier Vandenbosch's quaking shrieks and eerie crooning. The song gets even darker after the chorus breaks down into this almost 'proggy' jam where the song lifts off into a grimy sludge finale. Vandenbosch treated "Droner" with primarily clean vocals as opposed to his usual harsh focused approach. The band elaborates:
"We wrote 'Droner' as a slightly less violent hard rock track, to compliment the death metal feel of our previous single 'Sturgeon' and to test more of our musical range and abilities. It's a heavy hitting hard rock slapper with a dark Valentine's Day vibe. When we demoed 'Droner', it was about half as fast as when we finished it. At some point, we realized that when we sped it up it became a lot catchier, but we kept the name 'Droner' even though the song doesn't 'drone' that much anymore. It used to be so slow and more repetitive, hence the name. In the lyrics, it's used to describe a disillusioned female partner who is relied on for solace and teaching the hard life lessons."
Fans of Conan, Pallbearer, Crowbar, will find themselves tripping out on ITUS' soundscape of horrors in the single "Droner", which can be seen and heard via its video premiere on TheCirclePit YouTube channel – https://youtu.be/7ywWN92lhKs​
Single Stream – Itusofficialdoom.bandcamp.com, Spotify​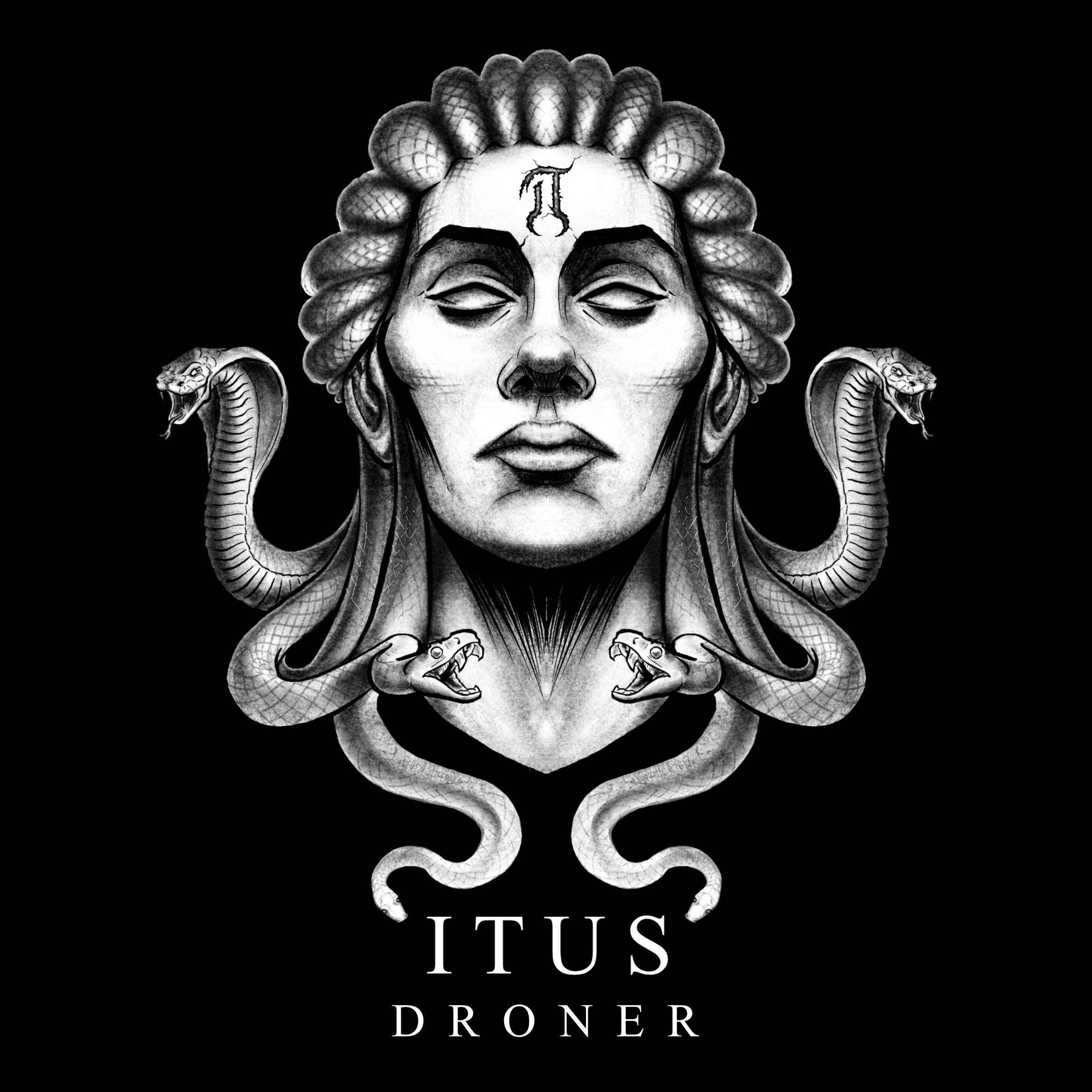 ​
ITUS is:​
Reinier Vandenbosch – Vocals
Brandon Lucking – Guitar
Brandon Aitchison – Bass Guitar
Vince Anastasi – Drums
For more info:​
​https://www.facebook.com/ITUSDOOM​
​http://www.instagram.com/ITUSDOOM​
About: ITUS was born in 2018 when Brandon Lucking (guitars) and Reinier Vandenbosch (vocals) began writing Doom Metal together. Fans of Conan, Pallbearer, Crowbar, Windhand, Electric Wizard, and Black Sabbath will find themselves tripping out on ITUS' soundscape of horrors 'PRIMORDIAL', their debut EP. ITUS blends grueling sludge and epic doom with stoner rock and death metal. Crushing yet jammy heavy metal passages, infused with a psychedelic, horror atmosphere established their EP as ITUS' first brutally tripped-out release. The PRIMORDIAL EP launched on Friday the 13th of March 2020. Covid seemed to strike right then with lockdowns, but given time to build ITUS recruited Vince Anastasi on drums, and the three boys started building in new directions both musically and professionally. ITUS lined up gigs for 2022 and performed a slew of new singles alongside the music from their first EP. New music videos produced by the band are also coming this year in 2022 and 2023. Hold your eyes and ears open for the new Sludge from ITUS.