Long Island, NY old school death metallers Pyrexia unleashed their 25th Anniversary edition of "System of The Animal" earlier this month.The revitalized album wasrecorded with Pyrexia's current band lineup that consists of Chris Basile (Guitar), Shaun Kennedy (Bass), Jim Beach (Vocals), and John Glassbrenner (Drums) at Chapel Sound on Long Island, NY, along with mixing and mastering done at Demigod Studios by Miguel Tereso.
Known as one of the American OG's of brutality with their vigorous death metal and smackdown hardcore, they offer a refreshed sound of how "System of The Anaimal" was meant to be. Guitarist Chris Basile explains:
"The biggest thing over the past couple of albums is the jump in production and the main thing the band suffered from in the past was production value. The songs can be felt in the chest and the riffs can finally be heard with this newly recorded version of System of the Animal. I also felt it was ahead of its time in 1997. I don't think a lot of people were ready for such a mix of Brutal Death Metal VS. Beatdown Hardcore. When people hear this material with the new production, combined with the fact that the music was written in the mid-90s. I think it puts Pyrexia in a whole new light for a lot of people. I think the songwriting is really going to stand out for listeners bored with bands that put out the same album over and over."
Hitting the road this coming August for ten dates across the US East Coast with Cerebral Incubation (Unique Leader), Atoll (Unique Leader), Reeking Aura (Parasitic Records), Pyrexia wants those who know them and the next generation of pit brawlers to brace themselves for their new unforgiving music video "Day One".
"We didn't want to do the typical serial killer or running through the woods Death Metal video. I think we took it to the next level production-wise. Think Training Day meets Grand Theft Auto. Be offended. "
Watch and listen to "Day One" – https://youtu.be/MDsnM0HfDpg​
"System of the Animal 25" was released on June 6th, 2023, and is available via the band's label Gravitas Entertainment.
Album order (CD, Vinyl) is available at Pyrexiaofficialmerchandise.bigcartel.com​
Spotify – https://spoti.fi/3pxrJ0y​
Previous Videos:​
Lyric Video for re-recorded "Unscathed" – https://youtu.be/m5hfuEat8I8​
Lyric Video for re-recorded "Purging The Nemesis" – https://youtu.be/m5hfuEat8I8​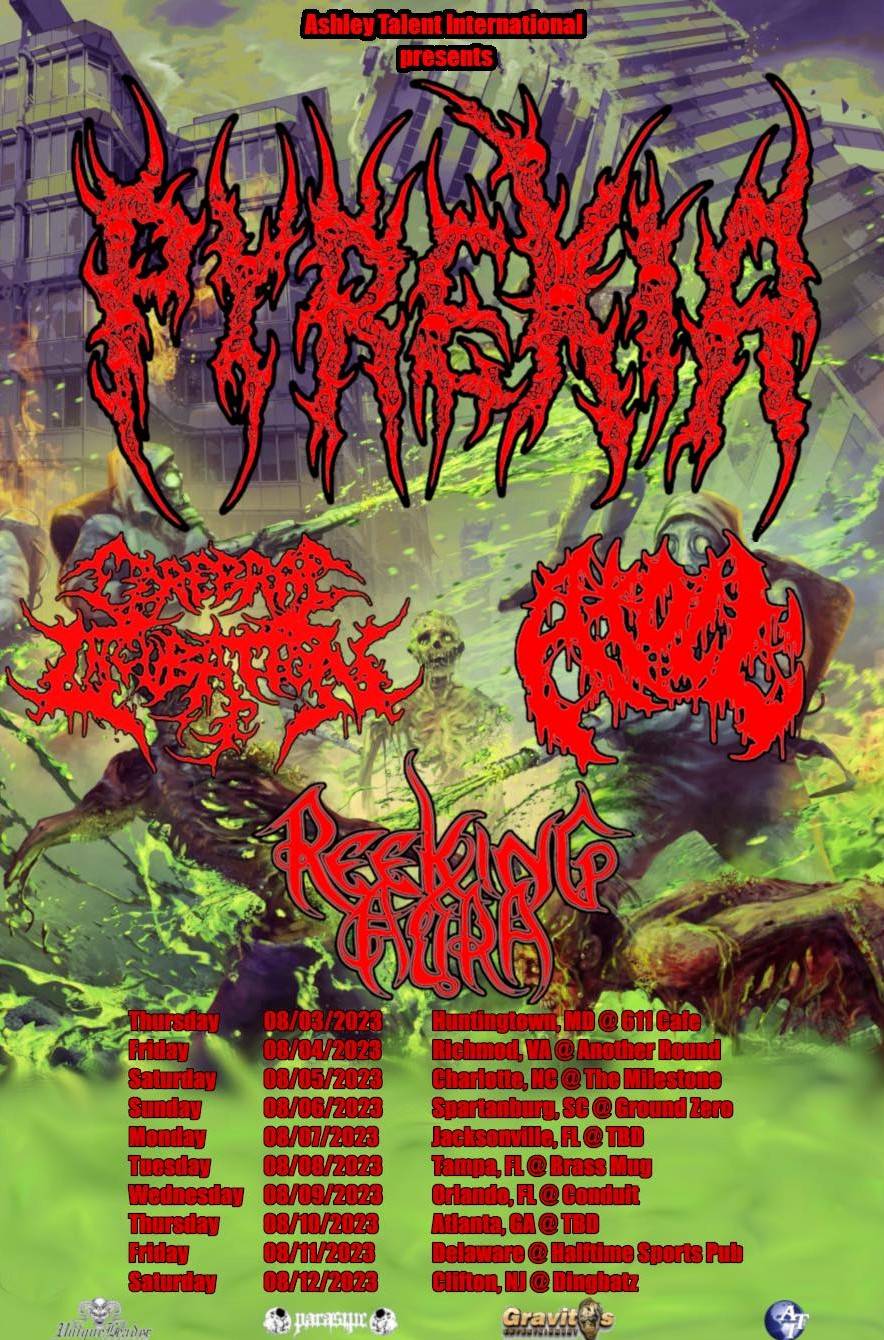 ​
Tour Dates – Pyrexia w/ Cerebral Incubation (Unique Leader), Atoll (Unique Leader), Reeking Aura (Parasitic Records)​
Aug 3 – Huntingtown, MD – 611 Cafe
Aug 4 – Richmond, VA – Another Round
Aug 5 – Charlotte, NC – The Milestone
Aug 6 – Spartanburg, SC – Ground Zero
Aug 7 – Jacksonville, FL – TBD
Aug 8 – Tampa Bay, FL – Brass Mug
Aug 9 – Orlando, FL – Conduit
Aug 10 – Atlanta, GA – TBD
Aug 11 – Newark, DE – Halftime Sports Pub
Aug 12 – Clifton, NJ – Dingbatz
​
Track Listing:​
1. Confrontation
2. Downsized
3. System of the Animal
4. Closure
5. Purging the Nemesis
6. Day One
7. Unscathed
8. G.F.Y.S. (Go Fuck Your Self)
For more info: Pyrexia.world | Facebook.com/PYREXIADEATHMETAL | Instagram.com/pyrexiaofficial​
About:
Band formation: 1990 – present
Location: Long Island, New York
​
1987-1989: Chris Basile joins the band Mortuary along with Terrence Hobbs, Doug Cerrito, and Mike Smith, all of Suffocation. Together over 30 songs were written by the band and many of the songs and riffs written during this time appear on both Pyrexia and Suffocation's early releases leading to many comparisons.
​
1990: Basile meets up with the four other original members Guy Marchais, Rob Shimonski, Daryl Wagner and Mike Andrejko, and Pyrexia is formed. They go on to release their 1991 demo Liturgy of Impurity and later the classic 1993 Full-length Sermon of Mockery, cementing their place in the anoles of Death Metal history……
​
Pyrexia continued to release one seminal release after another including their 1997 "System of the Animal", and even teaming up with Trevor Peres of Obituary in 1999 to form the band "Catastrophic" which went on to release their debut album on Metal Blade records.
​
In 2007 the band signed with Unique Leader Records and began an extensive campaign of touring and performing both in America and overseas in support of the next three albums released under the UL moniker that continues today.
​
With the addition of Gravitas Entertainment and Management as full-time management for the band, the schedule and team in place for 2023 have the band set for new heights…..
About Author