IMMORTAL GUARDIAN release "Southern Rain," the latest new song and music video this year from the progressive/power metal band. The digital single can be heard at all streaming/download platforms or watch the video here – https://youtu.be/zvjd7wyAn54​
"For several moments in our history, we have doubted the humane side of humanity. Now, this is the moment we arise to say: ENOUGH! No matter how hard things get, no matter how south things go, we will never back down," states singer Carlos Zema. "We will not race against the races. We will not stand as victims anymore. We will unite and persevere against all the bullets that our families dodge every day. Together as one, we stand against the next bloodstain in our history, at all costs."
"Southern Rain" is the third new song the talented and hard-working quartet has released since the spring highlighting their efforts in creating the follow-up to the successful 2021 'Psychosomatic' album behind "Ozona" and "Echoes" forming a basis for their next conceptual piece.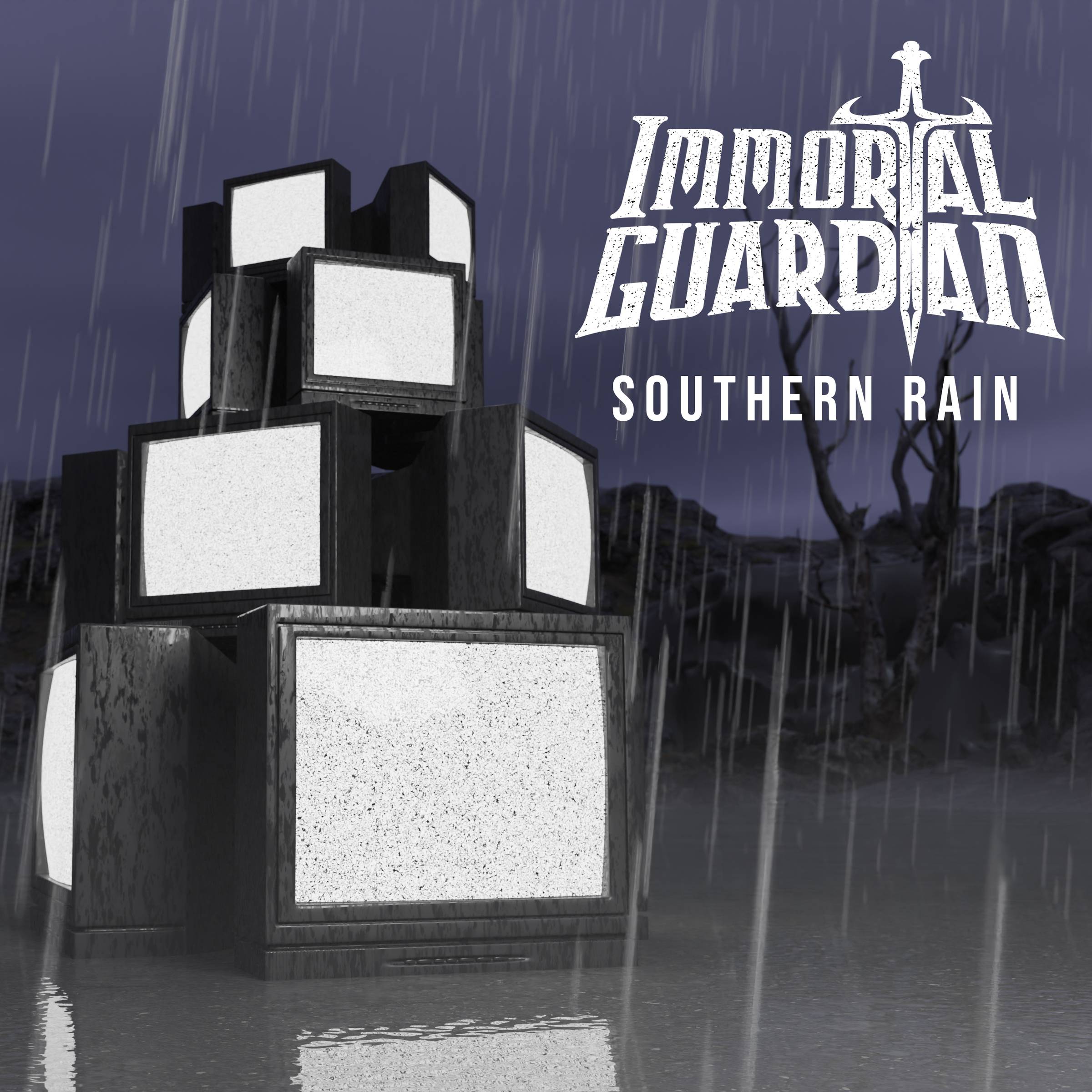 ​
'Psychosomatic' has been lauded by Metal Temple for its "melody and power, two things displayed in a smashing way throughout this album" and led Metal Rules to call the group "one of the most interesting bands that have emerged in recent years on the international power metal scene." Video clips for the title track,"Candlelight," and "Phobia," the latter of which featured a guest appearance by Angra guitarist Marcelo Barbosa, have captured the ears of heavy metal fans worldwide, while their videos for "Clocks," "Lockdown" and "Read Between The Lines" have earned praise from the likes of MetalSucks, Metal Injection and Gear Gods. CD and digital editions of "Psychosomatic" are still available for purchase at https://www.smarturl.com/immortalguardian.
After making a splash via their 2018 full-length debut "Age of Revolution" – which featured its own fair share of creative music videos, including the "Armageddon"-meets-telenovela clip for "Stardust" – and through tours with the likes of Marty Friedman and Exmortus, IMMORTAL GUARDIAN gathered in Las Vegas at the beginning of 2020 to record their second album. As the spread of COVID-19 and the subsequent pandemic began to ensue, shutdowns around the world began being enforced, resulting in the band completely scrapping the record that they had been working on and writing and creating a new thematic record about their emotions surrounding current events. The resulting "Psychosomatic" was a truly multi-national record, with guitarist/keyboardist Gabriel Guardian – known for his uncanny ability to play the two instruments simultaneously – remaining in Las Vegas, singer Carlos Zema recording his vocals from his home in Brazil, drummer Justin Piedimonte tracking from Montreal and bassist Joshua Lopez recording from IMMORTAL GUARDIAN's native Texas.
The newly-released music videos and singles are just a small taste of the new territory that IMMORTAL GUARDIAN plans to take their sound in 2022. More information on additional new music and touring in 2022 will be revealed in the months to come by M-Theory Audio and at https://www.facebook.com/igmetal/.
IMMORTAL GUARDIAN is:
Gabriel Guardian – guitars/keyboards
Carlos Zema – vocals
Justin Piedimonte – drums
Joshua Lopez – bass
​
About Author